CSL 42-2Y II
Swiss Type CNC Lathe
Diamond CSL Series
Machine Features:
Diamond CSL 42-2YII is upgraded with MITSUBISHI 730 controller which possessed control axis superimposition function. It offers up to 10 axes complex manufacturing capability and it can simultaneously to process at 3 channels.
---
12 Stations Power Turret Can Do Double-side Processing
Main and Sub-Spindle are up to 42mm with 12 station power turret. Both built-in spindle are with MP Scale's CS axis construction. This helps to obtain higher spindle rotation accuracy and better surface finish during cutting operation.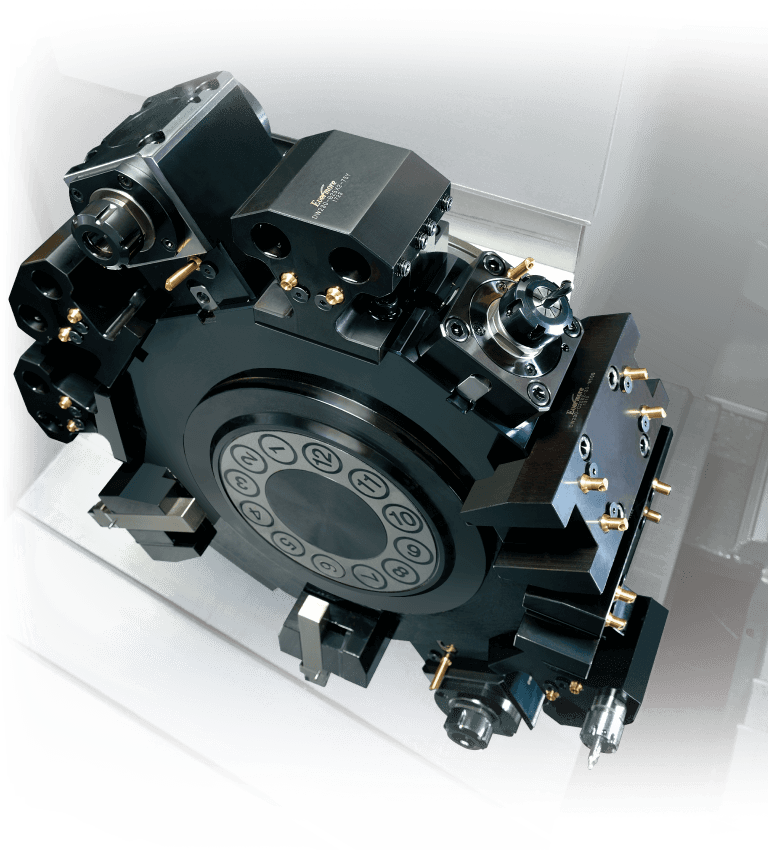 ---
4 pcs Cross Working Driven Tool Holder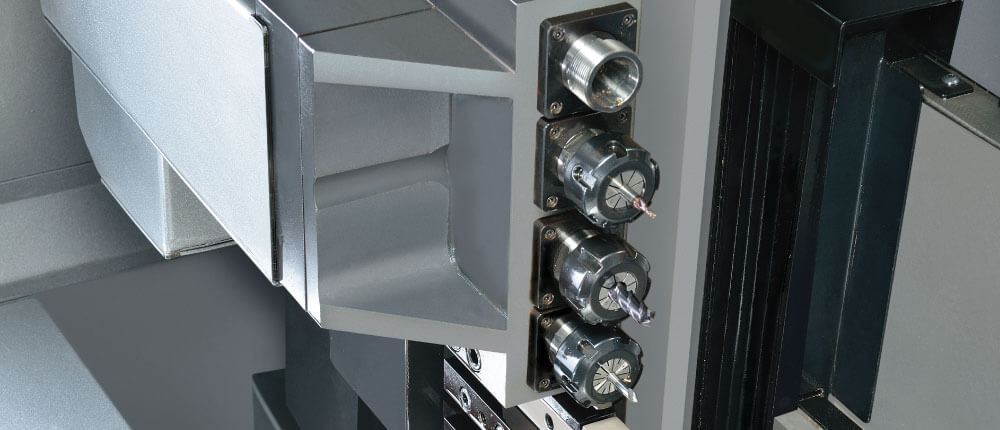 ---
4 pcs Back Working Driven Tool Holder ( for 42-2Y II )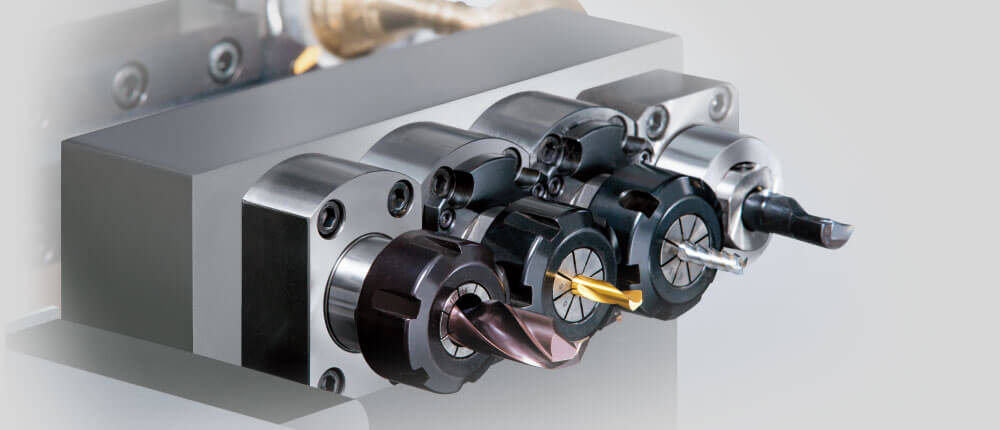 ---
5 pcs O.D. Turning Tool Holder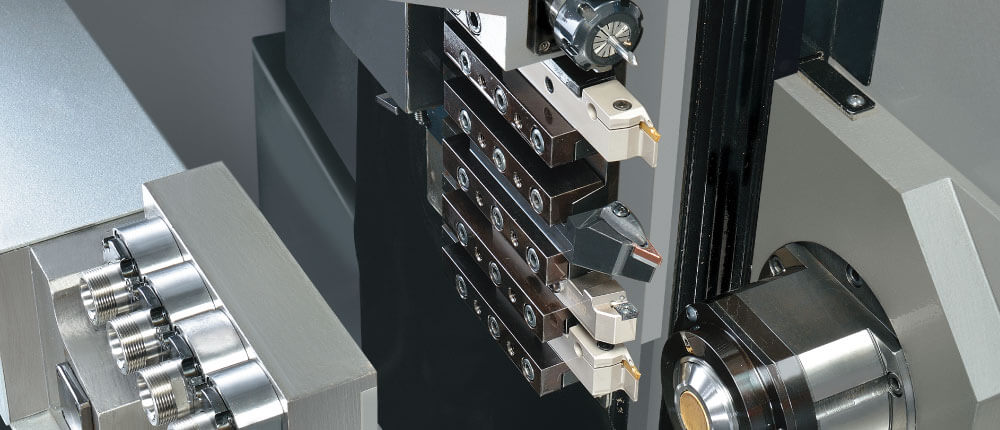 ---
Standard Accessories:
Main spindle
Sub-spindle
CS Axis (0.001° orientation)
Working Light
Coolant System
Part off Detective Sensor
Live Bushing
Chip Conveyer
Chip Bucket
Part Catcher
5 pcs O.D. Turning Tool Holder
4 pcs Cross Working Driven Tool Holder
4 pcs Double Side Turning Holder (Turret)
4 pcs Double Boring Bar Holder (Turret)
2 pcs Axial Drilling and Milling Head (Turret)
2 pcs Radial Drilling and Milling Double Head (Turret)
Rough Material Bushing(Max. Machining = Bar Diameter x 3)
4 pcs Back Working Driven Tool Holder
---
Optional Accessories for Power Turret:
Double Side Turning Holder
Double Boring Bar Holder
Axial Drilling And Milling Head
Radial Drilling And Milling Double Head
---
Machine Specifications:
Items
Y1 (System 1)
Y2 (System 2)
(System 3)
Working Range
Max. Machining Dia.
Ø42 mm
Ø42 mm
Max. Machining Length Per Chucking
280 mm
Max. Drilling Capacity
Ø30 mm
Ø30 mm
Max. Tapping Capacity
M16
M16
Tooling System
O.D. Turning Tooling
5
O.D. Turning Tool Dimension
□20 x 20 x 120
Cross Tool (Power - Driven Tool)
4
Cross Tool Dimension
16 mm (ER25)
Cross Tool Speed
200~6000 r.p.m.
Back I.D. Tool
4
Back I.D. Tool Dimension
Ø25 mm
Back Working Driven Tool
4
Back Working Driven Tool Dimension
16 mm (ER25)
Back Working Driven Tool Speed
200~6000 r.p.m.
Power Turret
Power-Driven Tool / Station
12
O.D. Tool Dimension
□20 x 20
I.D. Tool Dimension
Ø25 mm
Max. O.D. Turning Tool / Station
6
Max. I.D. Bore Tool / Station
6
Power-driven Tool Dimension
16 mm (ER25)
Power-driven Tool Speed
200~6000 r.p.m.
Max. Radial Mill / Drill Tool / Station
12
Max. Axial Mill / Drill Tool / Station
12
Spindle
Spindle Hole Dia.
Ø42 mm
Spindle Speed
200~6000 r.p.m.
Sub-spindle
Sub-Spindle Hole Dia.
Ø42 mm
Sub-Spindle Speed
200~6000 r.p.m.
Max. Length for Front Ejection
120mm
Sub-Spindle Max. Drilling Dia.
Ø30mm
Sub-Spindle Max. Tapping Dia.
M16
Rapid Traverse Speed
X1, Z1, Y1 / X2, Z2, Y2 / X3, Z3 Axis
30 m/min
30 m/min
30 m/min
Travel
X1 Axis
45 mm
Z1 Axis
300 mm
Y1 Axis
360 mm
X2 Axis
150 mm
Z2 Axis
480 mm
Y2 Axis
185 mm
X3 Axis
250 mm
Z3 Axis
480 mm
Motors
Main / Sub-Spindle
7.5 kw
7.5 kw
X1, Z1, Y1 / X2, Z2, Y2 / X3, Z3 Axis
1.0 kw
1.0 kw
1.0 kw
Rotary Tools
1.5 kw
2.2 kw
1.5 kw
Coolant Pump
1.5 H.P.
1.5 H.P.
Lubrication
25 W
25 W
Machine Dimensions
Center Height
990 mm
Weight
6480 kgs
Dimension
3600 x 2480 x 2075 mm
Air Pressure
Air Pressure
5 kg / cm
Air Supply
10 L / min

Inquiry