SUPER CSL
CNC Lathe
Machine Features:
The SUPER CSL from Poly Gim is a multitasking turning center designed for Turning/milling operations. In addition to equip with various tool holders to meet versatile machining requirements , this machine is also designed with main and sub-spindle that allow any complicated part to be accomplished with only one setup.
Twin Y-axes design.
B-axis can be rotated 360˚ to perform any degree of drilling, tapping and milling operations.
B-axis rotation is driven by a servo motor, providing high indexing accuracy of 0.0001˚.
Main and sub-spindle speed : 3,000 rpm.
Through hole diameter of main and sub-spindle:Ø65 mm.
Both main and sub-spindle have C-axes function for performing contour machining.
All moving axes are mounted with heavy duty, roller type linear motion guides.
Fixed type spindle structure.
The machine base is manufactured from high quality cast iron, tempered and stress relieved to eliminate structural deformation problems.
Tooling System:
Tooling System for main Spindle

Tooling System for Sub-spindle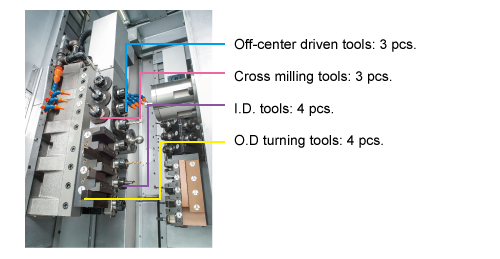 ---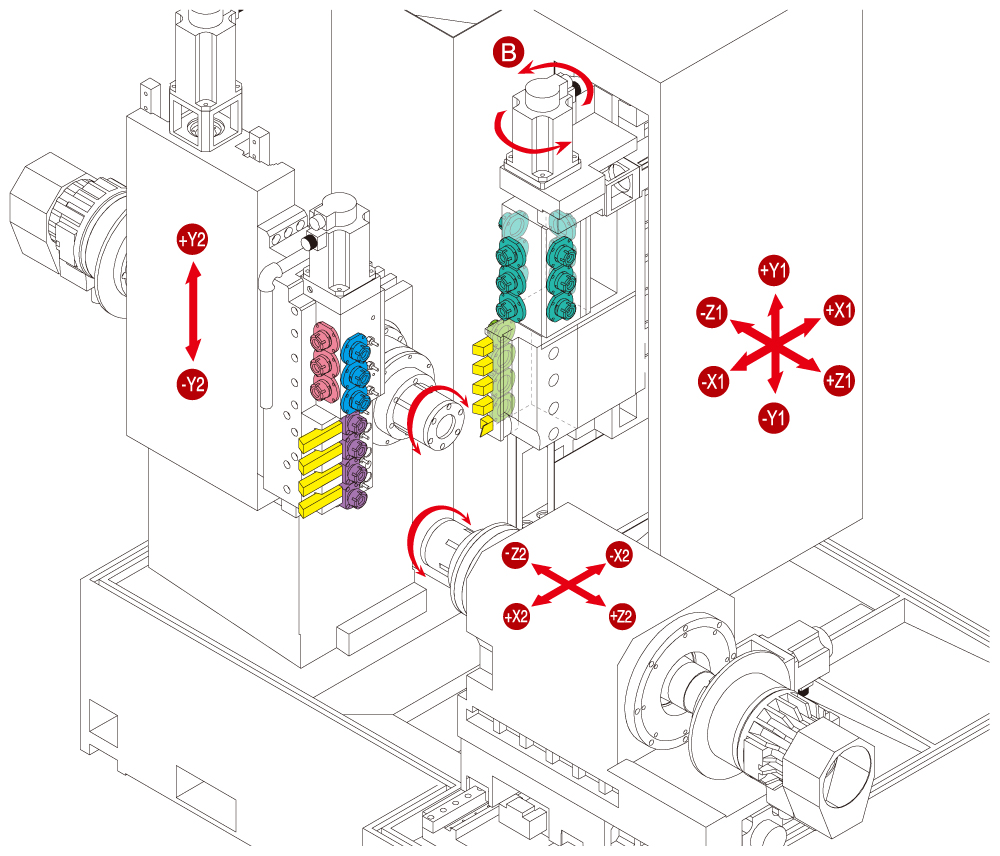 SYSTEM 1


6 pcs O.D turning tool holder (type 52 / 60 5pcs)


4 pcs I.D stationary tool hold


12 pcs 360° B axis driven tool holder
SYSTEM 2


4 pcs O.D turning tool holder


4 pcs I.D stationary tool holdr


3 pcs cross working driven tool holder


3 pcs back off-center driven tool holder
---
Standard Accessories:
Main spindle
Sub-spindle
CS axis orientation for both spindle
Working Light
Coolant System
Part off Detective Sensor
Part Catcher
Spindle Coolant Device
System 1
6 pcs O.D turning tool holder (type 52 / 60 5pcs)
4 pcs I.D. Stationary Tool Holder
12 pcs 360° Automatic Rotary Driven Tool Holder
System 2
4 pcs O.D. Turning Tool Holder
4 pcs I.D. Stationary Tool Holder
3 pcs Cross Working Driven Tool Holder
3 pcs Off-center Working Driven Tool Holder
Option Accessories:
Chip Conveyer + Bucket
Fedek Bar Feeder DH65L ( 1.5M)
Oil Coolant Device
---
Machine Specifications:
Items
SUPER CSL 42
SUPER CSL 42
SYSTEM 1
SYSTEM 2
Working Rang
Max. Machining Dia.
Ø42mm
Ø42mm
Max. Machining Length
part diameter x 3
Max. Drilling Capacity
Ø30mm
Ø30mm
Toolong System
O.D. Turning Tool
6
4
O.D. Turning Tool Dimension
□20x20x80
□20x20x80
I.D. Tool
4
4
I.D. Tool Dimension
Ø25mm
Ø25mm
Cross Tool (power – driven tool)
3
Cross Tool Dimension
16mm (ER25)
Cross Tool Speed
200~6000rpm
Off-center driven Tool
3
Off-center driven Tool Dimension
16mm (ER25)
Off-center driven Tool Speed
200~6000rpm
360° Automatic Rotary Driven Tool
12
360° Automatic Rotary Driven Tool Dimension
16mm (ER25)
360° Automatic Rotary Driven Tool Speed
200~6000rpm
Spindle
Spindle Hole Dia.
Ø46mm
Spindle speed
100~6000rpm
Sub-spindle
Sub-spindle Hole Dia.
Ø46mm
Sub-spindle Speed
100~6000rpm
Sub-spindle Max. Drilling Dia.
Ø30mm
X1, Y1, Z1 axes
20m/min
X2, Y2, Z2 axes
20m/min
Motors
Main Spindle
7.5/11 kw
Sub-spindle
7.5/11 kw
Y1, Y2 axes
2.2 kw
2.2 kw
X1, X2, Z1, Z2 axes
1.5 kw
1.5 kw
B axes
1 kw
Rotary Tools
4 kw x 2
Coolant Pump
1 HP
1 HP
Lubrication
25w
25w
Machine Dimensions
Center Height
1125 mm
Weight
7300 kgs
Dimension
2900x2330x2270 mm
Dimension (with chip conveyor)
3850x2330x2270 mm
Air
Air Pressure
5kg/cm
Air Supply
10L/min
* We reserve the rights to change the design without any prior notification
Items
SUPER CSL 52
SUPER CSL 52
SYSTEM 1
SYSTEM 2
Working Rang
Max. Machining Dia.
Ø52mm
Ø52mm
Max. Machining Length
part diameter x 3
Max. Drilling Capacity
Ø30mm
Ø30mm
Toolong System
O.D. Turning Tool
5
4
O.D. Turning Tool Dimension
□25X25X80
□25X25X80
I.D. Tool
4
4
I.D. Tool Dimension
Ø25mm
Ø25mm
Cross Tool (power – driven tool)
3
Cross Tool Dimension
16mm (ER25)
Cross Tool Speed
200~6000rpm
Off-center driven Tool
3
Off-center driven Tool Dimension
16mm (ER25)
Off-center driven Tool Speed
200~6000rpm
360° Automatic Rotary Driven Tool
12
360° Automatic Rotary Driven Tool Dimension
16mm (ER25)
360° Automatic Rotary Driven Tool Speed
200~6000rpm
Spindle
Spindle Hole Dia.
Ø60mm
Spindle speed
100~6000rpm
Sub-spindle
Sub-spindle Hole Dia.
Ø60mm
Sub-spindle Speed
100~6000rpm
Sub-spindle Max. Drilling Dia.
Ø30mm
X1, Y1, Z1 axes
20m/min
X2, Y2, Z2 axes
20m/min
Motors
Main Spindle
7.5/11 kw
Sub-spindle
7.5/11 kw
Y1, Y2 axes
2.2 kw
2.2 kw
X1, X2, Z1, Z2 axes
1.5 kw
1.5 kw
B axes
1 kw
Rotary Tools
4 kw x 2
Coolant Pump
1 HP
1 HP
Lubrication
25w
25w
Machine Dimensions
Center Height
1125 mm
Weight
7400 kgs
Dimension
2900x2330x2270 mm
Dimension (with chip conveyor)
3850x2330x2270 mm
Air
Air Pressure
5kg/cm
Air Supply
10L/min
* We reserve the rights to change the design without any prior notification
Items
SUPER CSL 60
SUPER CSL 60
SYSTEM 1
SYSTEM 2
Working Rang
Max. Machining Dia.
Ø60mm
Ø60mm
Max. Machining Length
part diameter x 3
Max. Drilling Capacity
Ø30mm
Ø30mm
Toolong System
O.D. Turning Tool
5
4
O.D. Turning Tool Dimension
□25X25X80
□25X25X80
I.D. Tool
4
4
I.D. Tool Dimension
Ø25mm
Ø25mm
Cross Tool (power – driven tool)
3
Cross Tool Dimension
16mm (ER25)
Cross Tool Speed
200~6000rpm
Off-center driven Tool
3
Off-center driven Tool Dimension
16mm (ER25)
Off-center driven Tool Speed
200~6000rpm
360° Automatic Rotary Driven Tool
12
360° Automatic Rotary Driven Tool Dimension
16mm (ER25)
360° Automatic Rotary Driven Tool Speed
200~6000rpm
Spindle
Spindle Hole Dia.
Ø65mm
Spindle speed
100~3000rpm
Sub-spindle
Sub-spindle Hole Dia.
Ø65mm
Sub-spindle Speed
100~3000rpm
Sub-spindle Max. Drilling Dia.
Ø30mm
X1, Y1, Z1 axes
20m/min
X2, Y2, Z2 axes
20m/min
Motors
Main Spindle
7.5/11 kw
Sub-spindle
7.5/11 kw
Y1, Y2 axes
2.2 kw
2.2 kw
X1, X2, Z1, Z2 axes
1.5 kw
1.5 kw
B axes
1 kw
Rotary Tools
4 kw x 2
Coolant Pump
1 HP
1 HP
Lubrication
25w
25w
Machine Dimensions
Center Height
1125 mm
Weight
7500 kgs
Dimension
2900x2330x2270 mm
Dimension (with chip conveyor)
3850x2330x2270 mm
Air
Air Pressure
5kg/cm
Air Supply
10L/min
* We reserve the rights to change the design without any prior notification

Inquiry